Why You Should Keep Going
O U T T S P O K E N
Keep going! There is so much to learn in the journey of small beginnings
As exciting as it sounds to hear that everyone will support you when you start or achieve your goals, is not always the case. As heartbreaking as it may be in the moment, not everyone in your life will always support what you do.
No matter how amazing it is what you're doing. Certain people will stay in your life only when you're accomplishing the same goals at their pace. Sometimes even under. But very few will applaud what you do in the beginning stages.
This is why you have to be the one to see the vision for yourself and be committed. If we achieved our goals based on the applause of others, we really wouldn't be at the place we should be. As they say, sometimes it's strangers who will support you more than the ones around you. Why is that? to be honest, I don't know.
But what I surely do know is that you, being your biggest cheerleader… as weird as it sounds, is what will take you furthest the most. The support may be less than the congratulations because people don't see what you see to keep going. People only see the end result of your vision.
Just like a tunnel. Those who are outside will only see you when you're out. Not knowing how the journey was on the inside. Hence why you've got to be the one to keep going and driven to what you see one-day accomplished.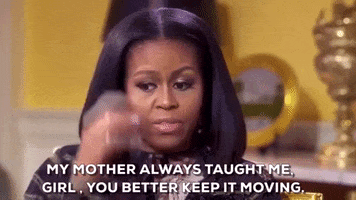 Whatever goals you have. Big or small "Keep it moving" and know that when you do, the reward will be far greater than you can imagine.
Even if the support is small in the process. Appreciate it and take it as a blessing. Being grateful for the few will help you to be grateful for the larger blessings of achievements ahead. There is so much to learn in the journey of small beginnings. Keep going because you've got this!
Whitney xo